Just in time for the Christmas season, when we all have a bit of time to relax and especially this year, maybe a bit more down time than usual, our 'What We're Reading' is ready! You know us, we can't resist a good read and there is nothing we like more than to find a book or two (or ten!) under the tree!
So, if you're looking for a good read for yourself, or maybe a book for someone else, keep reading and you will not be disappointed.
THE LITTLE CROOKED CHRISTMAS TREE – by Michael Cutting 
'Among the rows and rows of trees growing on Brown's Christmas Tree Farm, there is one that is not like the others. This little spruce asks the same two questions of every creature he meets: "What is Christmas? What is a Christmas tree?"
He gets no reply, until the day he shelters a white dove from a storm. Through that friendship, the little tree learns the meaning of love, sacrifice – and Christmas.'
This book is a must get for that special someone in your life. We pull it out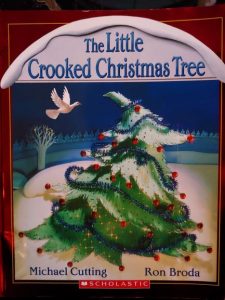 very Christmas and it never fails to bring a tear to our eye and that tight feeling in our hearts (you know that feeling!) It is an absolutely heartwarming story of a young Christmas tree (and yes we know, that sounds very cliche-ish but it is TRUE!), and such a statement on standing strong through the tough times not knowing if things will get better (kind of like now).  The artwork (paper sculptures) is beautifully created by Ron Broda who helps us visualize the story of the little tree trying to find the meaning of Christmas. We cannot say enough good things about it (can you tell we LOVE it?); we think you will love it too no matter what your age is.
SHANTARAM – by Gregory David Roberts (cover design – Steve Snider & Jennifer Carrow; cover photograph – Masahiro Ariga/Photonica)
Gregory David Roberts was born in Melbourne, Australia. Sentenced to nineteen years in prison for a series of armed robberies, he escaped and spent ten of his fugitive years in Bombay-where he established a free medical clinic for slum-dwellers, and worked as a counterfeiter, smuggler, gunrunner and street soldier for a branch of the Bombay mafia.  Recaptured, he served out his sentence, and established a successful multimedia company upon his release.  Roberts is now a full time writer and lives in Bombay. (back cover)
This. Is. Epic. This one of the best stories we have ever read. It is such a great read and please don't let the size intimidate you – every page is so beautifully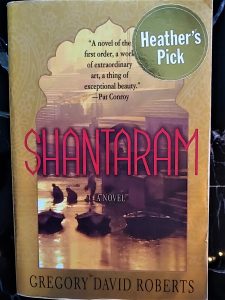 written that you will be finished it before you know it and berating yourself that you rushed through it. (We've got little stickies throughout the book where his words are so beautifully put together just so we can go back and reread them.  Don't judge, you might find yourself doing it too!) Everyone that reads it, always ends up saying that they love it. This is in our top 5 favourites so please, put this one on your list for sure!
UNTAMED – by Glennon Doyle (jacket design – Lynn Buckley; jacket illustration – Leslie David)
'Untamed will liberate women – emotionally, spiritually, and physically.  I believe Glennon was born to write this book, just this way, at just this moment in history. It is phenomenal.' – Elizabeth Gilbert (back cover)
'A haunting powerhouse…the chance to be less alone in our own relationships.' – The Washington Post (back cover)
You know all those rules and boundaries that make us all feel a bit (or a lot)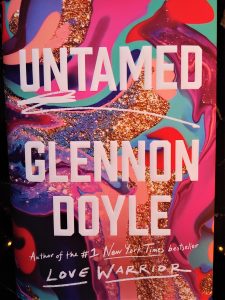 stuck and we're not too sure how we got so … caged?  UNTAMED is truly is life changing and will open your eyes, mind and heart to live a life free of other people's rules  (or at the very least you'll understand how you came to be where you are). Read this book and let us know what you think – we were hooked after the first two pages! It is absolutely phenomenal.
A STORY OF KARMA – by Michael Schauch (Design – Chyla Cardinal)
'Schauch writes a moving story of personal growth and transformation in his encounter with the Indigenous peoples of the remote highlands of Upper Manang, Nepal. Read his story with an open heart and mind – it will touch you deeply.' – Mark Aldenderfer, Distinguished Professor of Anthropology at the University of California, Merced, and a National Geographic Explorer (back cover)
This book is truly remarkable. The words on the page convey a story of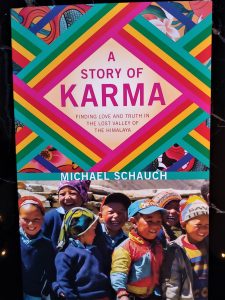 searching and love and truth that will open your eyes to how life really is in the remote villages in Nepal. Michael Schauch, his wife Chantel and their team undertake an expedition deep in the Himalaya of northern Nepal, into a very remote village and their journey becomes the journey of a lifetime. Michael and his wife find their lives entwined with Karma, a young girl in a 17th-century Himalayan village and forever changed. If you've ever had the experience of an encounter with someone that changes your life in every way, you will relate to this true story. You will not be disappointed – put this on your list of must reads.
We are happy to note that Michael resides in Vancouver Canada and with some planning (after Covid of course), we hope to be able to meet him to delve deeper into his journey and his feelings and thoughts on Nepal and what and where his next plan is … Papua New Guinea maybe?
Well folks, that is it for our reading list for 2020. We hope you seek out and read some of our picks – please send us your feedback!  We'd love to hear what you think.
#cheetah #christmastree #epicreads #heatherspicks #karma
@glennondoyle @michaelaverillproductions  @VIMFF