So here we are! As promised, we are back with another list of good reads for you to add to your reading list. Each of these books offers something different – adventure, thoughtful curiosity, heartbreak… there's something here for everyone! Enjoy!
KOKODA – by Peter Fitzsimons
This book follows in the footsteps of the heroes and villains of the campaign as they climb the never ending steep mountain ranges, dig in to defend their positions, charge forth into frenzied battle, or begin a long, desperate trek back to safety. KOKODA offers the perspective of the Australian army, the Japanese troops and the extraordinary local people as well. (Back Cover)
If you love to read about battles this is the book for you. It is written in such a way that you can almost see the action in your mind's eye and once you are walking along the Track it all becomes remarkably real. Or, wait until you return home to read it and you'll understand exactly what and where the author is writing about. Either way, a must read if you are coming to the Kokoda Track.
THE ESCAPIST – by Gabriel Filippi
In The Escapist, one of Canada's foremost mountaineers and greatest unsung heroes, Gabriel Filippi, shares a life spent in and out of the Death Zone and proves an old axiom true: no climber returns from a summit the same as when he begin his ascent. This gripping and heartfelt memoir about human perseverance and triumph in the pursuit of one man's wildest dreams will take you to the most extreme heights and back again. Survival comes at a price, but Gabriel proves that he will never give up trying to climb to the top of the world. (Back cover)
If you've not yet had the mountains call to you, you will hear them after reading this book. And once you've trekked or climbed in the majestic mountain ranges of this planet, you will find yourself always thinking of when you can go back. If the thought of Everest is a bit much for you, there are so many other options to choose from that are just as rewarding (obviously without the danger element, but hey! if that's what gets your blood flowing, do it! And let us know when you're heading to the Himalayas or the Andes and we'll feature you here!)
The Hidden Life of TREES – by Peter Wohlleben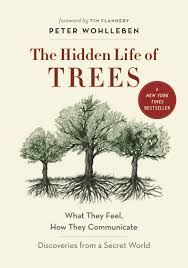 Are trees social beings? In this international bestseller, forester and author Peter Wohlleben convincingly makes the case that, yes, the forest is a social network. He draws on groundbreaking scientific discoveries to describe how trees are like human families: tree parents live together with their children, communicate with them, support them as they grow, share nutrients with those who are sick or struggling and even warn each other of impending dangers. Wohlleben also shares his deep love of woods and forests, explaining the amazing processes of life, death, and regeneration he has observed in his woodland.
After you read this book, a walk in the woods will never be the same again. (Inside cover)
Seriously, a walk in the forest will never be the same. Standing in the middle of a silent forest early in the morning listening to the breeze ruffling the leaves, breathing the air and hearing the calls of the birds to each other as they wake will awaken your senses to this new world around you. Try it!
Kabul Beauty School – by Deborah Rodriguez
Deborah Rodriguez went to Afghanistan with nothing but a desire to help and a degree in cosmetology. There she joined the Kabul Beauty School, which welcomed its first class in 2003. Well meaning but sometimes brazen, Rodriguez, one of the school's first teachers and its eventual director, stumbled through language barriers and overstepped cultural customs as she learned how to empower her students to become their families' breadwinners, teaching them the fundamentals of coloring techniques, haircutting, and makeup.
With warmth and humour, Rodrigues reveals the magnificence behind the burqa – and presents the remarkable tale of an extraordinary community of women who come together and learn the arts of perms, friendship and freedom. (Back cover)
This is truly an inspiring read about a woman who wanted to make a difference. It pulls you in from the very first page and keeps you engaged, holding your breath and hoping that everything she is working for, comes together.